CATERING TO YOU WITH FLAVOR, SERVICE, AND EXPERTISE.
Linn's Restaurant has proudly served the San Luis Obispo County since 1994 with a welcoming and relaxed dining experience. We look forward to bringing all the things you enjoy most about our restaurant to your next event. Whether it's a small gathering, a business event, or wedding, Linn's can meet your needs. We pride ourselves on catering to the unique character of our clients while creating an unforgettable experience for your guests. We work to ensure your event reflects your own taste and brings your vision to reality. Our goal is to relieve you of the many details that go along with hosting a successful party so that you and your guests can thoroughly enjoy your special event.
Linn's provides exceptional handmade foods, bartenders, and servers to make the most of your experience. Click here to see our current Catering Menu, Trays, Appetizers, Soups, Sides, and Desserts.
Contact catering for an appointment or for more information:
e-mail: events@linnsfruitbin.com
or call: 805-927-1499
---
WEDDING CAKES ARE VERY SPECIAL TO YOU AND TO US.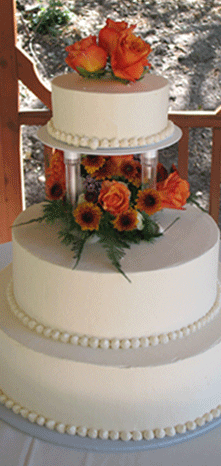 At Linn's, we believe every dessert should taste as wonderful as it looks — this is especially true for wedding cakes due to the importance of the occasion. We use natural ingredients, original recipes featuring fresh fruits and light cakes; and experienced bakers and designers to ensure your wedding cake reflects your individual flavor and style preferences.
We recommend scheduling an appointment with our wedding cake consultant in our Cambria location so you may discuss the details of your cake and have your questions answered. From modern simplicity to traditional intricacy in any combination of our delicious cake, filling, and frosting flavors, we can create a wedding cake that is a true focal point on your special day.
We have a portfolio of wedding cake photos for you to browse, however, we also encourage you to share your own pictures, colors, or ideas with us so that we can discuss how to incorporate those concepts into your wedding cake.
Making the finest wedding cakes is not enough. At Linn's, service is an important ingredient in every wedding cake we sell. We take a personal interest in you, your party plans, and your wedding day schedule. We offer a free design consultation with flavor samples. We provide professional delivery and set-up throughout San Luis Obispo county, and will coordinate with your florist when fresh flowers are part of your cake design.
Click here to see:
Wedding Cake Photos
Wedding Cake Flavors



Contact Linn's wedding cake consultants
for an appointment or for more information:
e-mail: events@linnsfruitbin.com
or call: 805-927-1499